Mindfulness-Based Stress Reduction (MBSR)
Online Class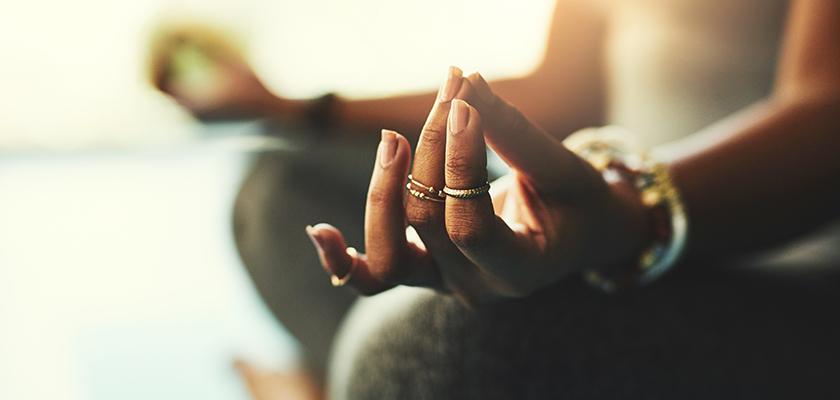 Mindfulness-Based Stress Reduction (MBSR) is an eight-week program that introduces mindfulness practices in the form of sitting meditation, body awareness, and mindful movement, modeled by Jon Kabat-Zinn, PhD. This program can help if stress is having a negative impact on your life, if you are experiencing chronic physical or mental distress, or if you are simply interested in learning ways to maintain health and well-being. Over 6,000 research papers have published findings on MBSR including decreased depression, pain, and distress, and increased attention, concentration, performance, and quality of life. 
The MBSR program is comprised of the Orientation and Introduction to Mindfulness, a 30-minute private interview with the instructor before the first class, 8 weekly sessions, and one daylong session on a Saturday or Sunday.
The Orientation and Introduction to Mindfulness session consists of meeting the instructor and other participants; an introduction to what participation in the class entails; a talk about the impact of stress and mindfulness on health, the history of MBSR, and research on the MBSR model; and instruction in and practice of introductory mindfulness techniques. 
If you are interested in attending the Orientation and Introduction to Mindfulness, but you are not ready to register for the class, please reference our FAQ page to learn how to join. Note that classes do tend to fill and develop a waitlist, so if you don't register for the full class, there may not be a space available for you. Due to program capacity, students can participate in up to three MBSR courses.
Spanish MBSR
We now offer our MBSR class in Spanish! This course is led by Valeria Galetto, PhD, a certified MBSR teacher at the University of Massachusetts Medical School's Center for Mindfulness in Medicine, Health Care, and Society. See below for upcoming sessions. Questions? Please contact [email protected]. 
Chronic Low Back Pain
If you are interested in learning mindfulness in an online course that is specifically designed and offered exclusively for patients with chronic low back pain for free at the UCSF Osher Center, you may check the research study website: https://osher.ucsf.edu/mbpr.

Pricing 
This eight-week class costs $395. UCSF faculty, staff, and students are eligible for a $35 discount and will be charged $360. Please reference our FAQ page to learn how to receive the discount. Read our Transfer and Refund Policy here. 
Please note that you will need to individually purchase a copy of Full Catastrophe Living (Revised and Updated Edition, 2013) by Jon Kabat-Zinn, PhD. The book is available in hard copy, electronic, and audio formats from most public libraries and major booksellers. 
Through the Community Care Fund (CCF), the Osher Center is covering the cost of an eight-week course in Mindfulness-Based Stress Reduction (MBSR) in both English and Spanish for people who qualify for financial assistance. Please review financial eligibility guidelines and apply through the Community Care Fund. 
FAQ
If you have a question, please reference the FAQ page to find an answer before contacting [email protected]
All class activities are online, including the retreat.
Registration opens two months prior to orientation. First and last classes for each cohort may be up to 3 hours.
2023 Class Schedule
May-July Wednesday Evenings (English)
This class is currently full. Enroll on the waitlist.
Orientation: May 24 from 6:30-9:00 pm
Class Dates: June 7-July 26 from 6:30-9:00 pm
Retreat: Sunday, July 16 from 9:30 am-4:30 pm  
Instructor: James Mitchell
June-August Thursday Afternoons (English)
Orientation: June 22 from 2:45-5:15 pm
Class Dates: July 6-August 24 from 2:45-5:15 pm
Retreat: Sunday, August 13 from 9:30 am -4:30 pm
Instructor: James Mitchell
July-September Tuesday Evenings (English)
Orientation: July 25 from 6:00-8:30 pm
Class Dates: August 1-September 19 from 6-8:30 pm
Retreat: Saturday, September 9 from 9:30 am-4:30 pm
Instructor: Nichole Proffitt
July-October Monday Evenings (Spanish) 
Orientation: July 31 from 5:30 pm to 8:00 pm 
Class Dates: August 7-October 2 (No class on September 4 (Labor Day) 
Retreat: Sunday, September 24 from 9:30 to 4:30 pm 
Instructor: Valeria Galetto
September-November Wednesday Evenings (English)
Orientation: September 6 from 6:00-8:30 pm
Class Dates: September 20-November 8 from 6:00-8:30 pm
Retreat: Saturday, October 28 from 9:30 am-4:30 pm
Instructor: Jane Baraz
September-November Friday Mornings (English)
Orientation: September 8 from 10:00 am-12:30 pm
Class Dates: September 22-November 17 from 10:00 am-12:30 pm

There will be an optional class on November 10; Last class will meet on November 17

Retreat: Sunday, October 29 from 9:30 am-4:30 pm
Instructor: Jane Baraz
September-November Thursday Afternoons (English)
Orientation: September 14 from 2:45-5:15 pm
Class Dates: September 28-November 16 from 2:45-5:15 pm
Retreat: Sunday November 5 from 9:30 am-4:30 pm
Instructor: James Mitchell
October-December Monday Evenings (Spanish) 
Orientation: October 9 from 5:30 pm to 8:00 pm 
Class Dates: October 16-December 4 from 5:30-8:00 pm 
Retreat: Sunday, October 26 from 9:30 am to 4:30 pm 
Instructor: Valeria Galetto
October-December Monday Afternoons (English)
Orientation: October 16 from 2:45-5:15 pm
Class Dates: October 30-December 18 from 2:45-5:15 pm
Retreat: Saturday, December 9 from 9:30 am-4:30 pm
Instructor: Bonnie O'Brien Jonsson
October-December Tuesday Evenings (English)
Orientation: October 24 from 6:00-8:30 pm
Class Dates: October 31-December 19 from 6:00-8:30 pm
Retreat: Saturday, December 9 from 9:30 am-4:30 pm
Instructor: Nichole Proffitt
Instructors