Osher Collaborative Faculty Fellowship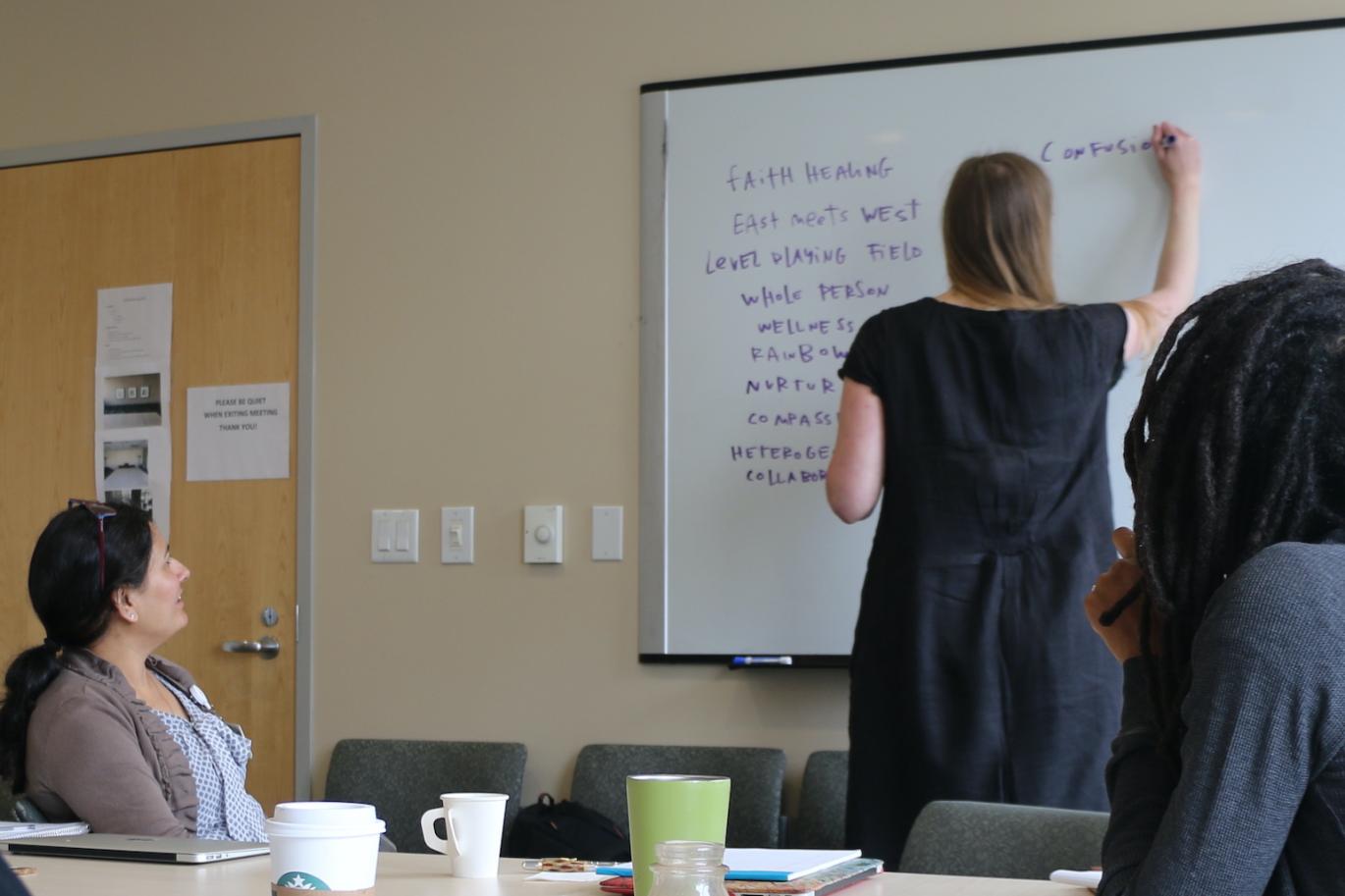 The Osher Collaborative for Integrative Medicine Faculty Fellowship program offers specialized advanced training for faculty interested in integrative medicine. Faculty with an appointment at any of the seven institutions with an Osher Center, including UCSF, are eligible to apply. The goal of the Faculty Fellowship is to develop highly skilled leaders and clinicians in integrative medicine. The interdepartmental and trans-institutional Faculty Fellowship expands integrative medicine expertise, fostering an accessible and comprehensive network of integrative care, education, and scholarship. Over the course of the year-long program, fellows are encouraged to develop their individual interests in integrative medicine.
The diverse patient populations served by the Osher Centers across geographic areas offer unique breadth and depth of training opportunities. Additionally, the Osher Centers' research and education programs enhance training, mentoring, and scholarship opportunities. No other integrative medicine educational program builds on a foundation of such close collaboration among world-renowned academic health centers.
The eleven Osher Centers are at UCSF, Harvard University, Karolinska Institute, Northwestern University, Vanderbilt University, University of Miami, University of Washington, University of Cincinnati, University of Wisconsin–Madison, University of Utah, and University of Vermont. To learn more about the Osher Collaborative, please visit oshercollaborative.org.
The yearlong program includes the following:
Self-directed one-year integrative medicine curriculum created by expert faculty across the Osher Collaborative
Weekly online or in-person teaching sessions with faculty and fellows across the Osher Collaborative held from 10 am to 12 pm PST / 1 pm to 3 pm EST on Wednesdays
Bi-weekly case-based learning sessions in which fellows present a case from their clinic and engage in a discussion with faculty and peers about the patient's treatment plan
Scheduled meetings with the fellowship director and project mentor
A mentored scholarly project that is clinical, educational, and/or research-based
Upon completion of the program, fellows will be eligible to sit for the American Board of Integrative Medicine (ABOIM) exam
Tuition: $10,000 for Osher institution faculty
Eligibility: MD/DO Faculty at an institution with an Osher Center (Northwestern University; Vanderbilt University; Harvard University; University of California, San Francisco; University of Washington; University of Miami; University of Cincinnati, University of Wisconsin–Madison; University of Utah; University of Vermont)
Application Process: Applications are due December 31st, 2021 for the 2022-2023 cohort. If you'd like to access the application or for more information, please contact Nico Henderson.   
Application components may include:
Online form
Curriculum vitae
Statement of interest in integrative healthcare. This is a summary of pertinent background information that may not be apparent from the CV, such as how the applicant became interested in integrative medicine and any prior training in integrative medicine and should include:

A brief summary of pertinent background information that may not be apparent from the CV, such as how the applicant became interested in integrative medicine and any prior training in integrative medicine
The applicant's educational goals for participation
The applicant's professional goals following the fellowship, and how completing the program will help to achieve them
A description of the scholarly project proposed

Letter of approval/support from home department chair or division chief
Danny Bega, MD, MSCI; Neurology; Northwestern University 
Sushma Kola, MD; Neurology; Northwestern University
Jay Luthar, MD; Internal Medicine; Harvard
Mala Mathur, MA, MPH; Pediatrics; University of Wisconsin
Mehrosh Naseem, MD; Family Medicine; Ohio State
Ginamarie Paper, DO; Internal Medicine; Northwestern University
Jennifer Ron, MD; Emergency Medicine; Northwestern University
Mala Sanchez, MD; Department of Medicine; University of Washington
Shakira Sanchez-Collins, MD; Internal Medicine; Northwestern University
Amy Solomon, MA; Family Medicine; University of Washington
Gwen Wurm, MD, MPH; Pediatrics; University of Miami
Deepti Argawal, MD; Anesthesiology; Northwestern University
Chloe Atreya, MD, PhD; Hematology-Oncology; UCSF
Briana Bruce, MD; Pediatrics; Northwestern University
Margaux Chan, MSc, DO; Primary Care; University of Washington
Natalie Choi, MD; Family Medicine; Northwestern University
Mary Coleman, MD, MPH; Pediatrics; UCSF
Gina DeAngelis, MD; Pediatrics; UCSF 
Niharika Dixit, MD; Hematology-Oncology; UCSF
Anisha Dua, MD; Rheumatology; UCSF
Shannon Fogh, MD; Radiation-Oncology; UCSF
Meghan Jobson, MD, PhD; Hospice and Palliative Medicine; UCSF
Kira Knight Rodriquez, MD, MS; Pediatrics; University of Miami
Doan T. Le, MD; Pediatrics; Northwestern University
Natalie Marshall, MD; Hematology-Oncology; UCSF
Jenifer Matthews, MD; Pediatrics; UCSF 
Kavita Mishra, MD, MPH; Radiation-Oncology; UCSF
Juliet Morgan, MD; Neurology and Psychiatry; UCSF
Sarah Patterson, MD; Rheumatology; UCSF
Christopher Sizemore, MD; Obstetrics and Gynecology; Vanderbilt University
Eleanor Smith, MD; Internal Medicine; Northwestern University
Angelica A. Vargas, MD; Anesthesiology; Northwestern University
Ann Vertovec, MD; Emergency Medicine; Northwestern University