Integrative Psychiatry and Psychotherapy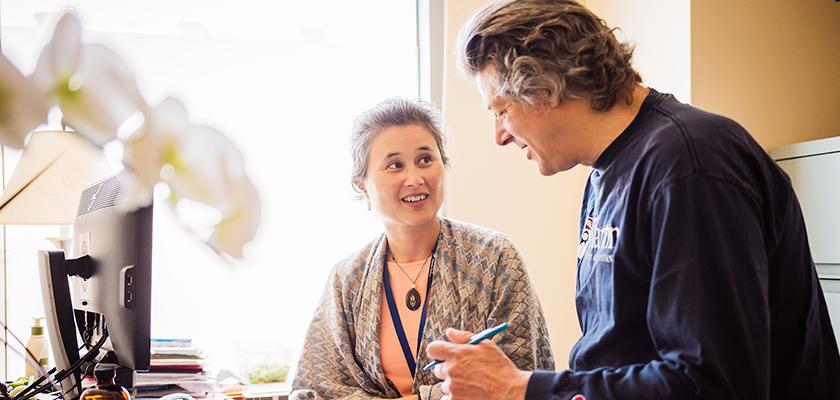 Your consultation will nurture the spirit, focus on emotional wellness, and address life challenges such as chronic illness, physical injury, or interpersonal loss. Our clinicians partner with individual patients, couples, and families to help optimize growth, self-responsibility, and the processes of transformation and healing. They are experienced in facilitating deep transformational growth trajectories and dealing with physical and psychological challenges.
An evaluation includes two visits with one of our board-certified psychiatrists, who are trained in both conventional and complementary medicine. Our clinicians work in collaboration with conventional and complementary medicine practitioners and understand the interplay between the multiple healing systems that can be used to enhance emotional wellness.
The emotional wellness consultation by our integrative psychiatrists will result in a treatment plan that is specific and unique to each individual and may include any combination of the following:
Conventional psychotherapies such as CBT, insight-oriented therapy, and motivational interviewing
Conventional medications
Supplements and botanical or herbal remedies
Pharmacogenomic testing (identifies key genes in your body's DNA that affect how it responds to medications, supplements, micronutrients, or foods)
Exploration into the interaction of the body, mind, spirit, and environment as a whole, with emphasis on accessing your own intuitive capacities to guide your life
Ayurveda and yoga therapies
Meditation, mindfulness, guided imagery, and relaxation
Expressive or creative arts therapy, including mandala drawings
Jungian dreamwork
Discussion of the range of available therapies that align with your values in collaboration with your health providers to create an integrated plan
Depression
Anxiety
Life transitions
Stress

Trauma
Mind-body symptoms such as pain and gastrointestinal symptoms
Health behavior modification
Personal development
Strengthening spirit and connection
Communication and relationships
Research Findings
The general public in the United States continues to show remarkable interest in the use of complementary and holistic therapies for healthcare, particularly for the treatment of mood and anxiety disorders.
In 2013 and 2015 publications, Purohit and colleagues analyzed 2007 National Health Interview Survey results to determine contemporary and alternative medicine (CAM) use in adults in the presence of neuropsychiatric symptoms:

Neuropsychiatric symptoms assessed included depression, anxiety, insomnia, attention deficits, headaches, excessive sleepiness, and memory loss.
44% with neuropsychiatric symptoms use complementary therapies, in comparison to 30% without neuropsychiatric symptoms.
20% used CAM because standard treatments were either too expensive or ineffective.
25% used CAM because it recommended by a conventional provider.
The number of neuropsychiatric symptoms was positively associated with CAM use: Those having more symptoms were more likely to use CAM, particularly mind-body medicine.
References:
Clarke, T. C., Black, L. A., Stussman,, B. J., Barnes, P. M., & Nahin, R. L. (n.d.). Trends in the Use of Complementary Health Approaches Among Adults: United States, 2002–2012 (Rep. No. 79).
Purohit, M. P., Wells, R. E., Zafonte, R. D., Davis, R. B., & Phillips, R. S. (2013). Neuropsychiatric Symptoms and the Use of Complementary and Alternative Medicine. PM&R, 5(1), 24-31. doi:10.1016/j.pmrj.2012.06.012
Purohit, M. P., Zafonte, R. D., Sherman, L. M., Davis, R. B., Giwerc, M. Y., Shenton, M. E., & Yeh, G. Y. (2015). Neuropsychiatric Symptoms and Expenditure on Complementary and Alternative Medicine. The Journal of Clinical Psychiatry. doi:10.4088/jcp.13m08682
Payment Information
The Osher Center accepts insurance for Integrative Psychiatry service. Please check with your health insurance company to determine if coverage and prior authorization is required by your policy. Our Patient Navigator will provide guidance regarding the fees for each service and your action steps to confirm your insurance coverage and authorization. Out of pocket clinical service fees vary based on each individual's insurance coverage. A 40% discount may be applied for this visit for self-pay patients, not covered by insurance, who pay the day of the appointment.