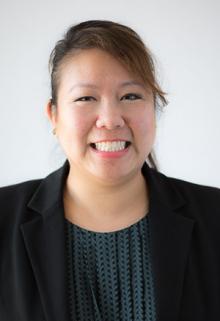 Integrative Psychiatrist, UCSF Osher Center for Integrative Medicine
Bio
Clinical Specialties at the Osher Center
Experience 
Dr. Selena Chan's work focuses on the importance of personalized medicine, combining the strengths of conventional medicine and complementary modalities. She values collaborative partnerships invested in the wellness of each patient, the treatment team, and the community. She is also passionate about creating educational materials for her patients, students, and interdisciplinary teams and enjoys exploring a wide range of modalities together. During her clinical fellowship, she helped her mentor develop and lead the UCSF elective, Integrative Psychiatry: Cultivating Wholeness in Mental Health Care.
Dr. Chan is board-certified in psychiatry and completed residency training at the University of Hawaii. There, she implemented creative strategies and identified practical treatment options as she recognized that culturally-relevant, non-pharmacologic methods of healing are highly valued in the local patient population.
Prior to medical school, she spent one year working at the Center for Integrative Medicine at the University of Pittsburgh Medical Center, where she researched evidence-informed modalities that support the body's inherent healing potential.  
In medical school, Dr. Chan served as vice president of the Integrative Medicine Club, promoting medical-student wellness and awareness of interdisciplinary healthcare. As an undergraduate, she served as an intern for the Center for Disease Control's Center for Healthy Aging; as liaison with the Integrative Health Interest Group; and as preventive medicine chair of the American Medical Students Association.
Education and Training
Clinical Fellowship, Integrative Medicine, UCSF
Psychiatry Residency, University of Hawaii
DO, Arizona College of Osteopathic Medicine
BS, Exercise Science, University of Pittsburgh
Personal Statement and Approach
I embrace medicine and psychiatry as an explorative art into the multifaceted dimensions of the whole person and cherish connecting with individuals from an array of cultures and lifestyles. I have a deep appreciation for people's evolving life stories and for guiding patients to explore meaningful personal values.
Publications
Solimine, S., Chan, S., Morihara, S.  (2016).  Cotard Syndrome: I'm Dead So Why Do I Need to Eat? Journal of Clinical Psychiatry, The Primary Care Companion for CNS Disorders, 18(2)
Bayles, C., Chan, S., Robare, J.  (2009). Chapter 26: Frailty. Exercise Management for Persons with Chronic Diseases and Disabilities, American College of Sports Medicine, 3rd Edition