Osher Center for Integrative Health Grand Rounds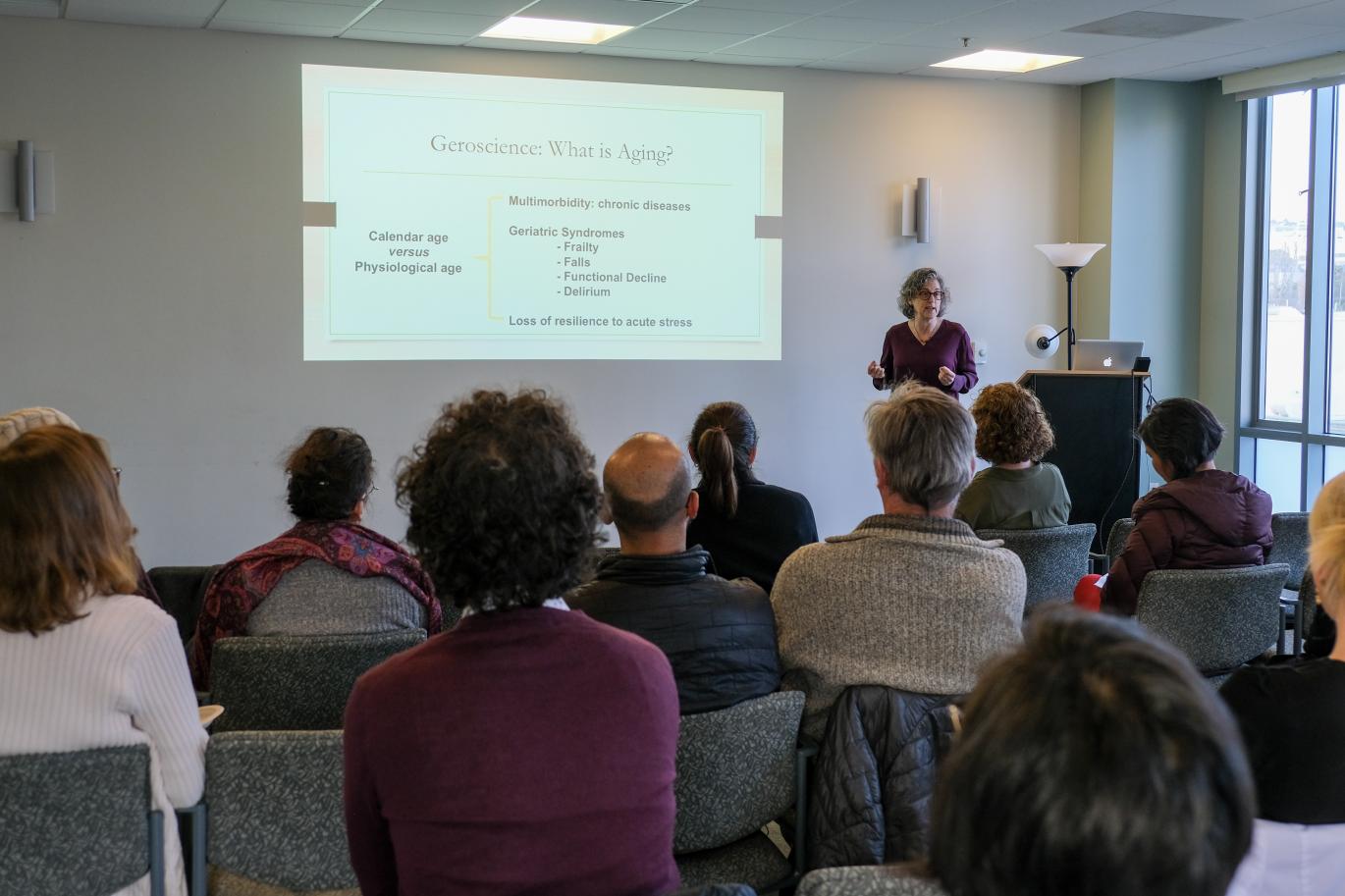 The UCSF Osher Center for Integrative Health's Grand Rounds series provides a forum for the presentation and discussion of Integrative Medicine and Health practice. The series aims to close the gaps between ideal practice and current practice by providing ways providers can offer whole-person, integrated care. These monthly presentations follow the academic calendar (September to June) and are held on the third Wednesday of each month from 8:00 - 9:00 am PT, with the exception of UCSF holidays. We welcome all UCSF faculty and staff, and the broader health professional community. CME/CEU credit is available.
The Grand Rounds committee includes Anand Dhruva, MD; Selena Chan, DO; and Patty Moran, PhD. Please contact Jen Shea, MPH with any questions or speaker recommendations. 
Please visit the Osher Center's continuing education page to learn about other educational activities for health professionals.
To view past Grand Round lectures, visit our YouTube channel. 
CME/CEU Information
The University of California, San Francisco School of Medicine (UCSF) is accredited by the Accreditation Council for Continuing Medical Education to provide continuing education for physicians and allied health professionals. 
UCSF designates this live activity for a maximum of 12 AMA PRA Category 1 Credits™. This credit maximum reflects all Osher Integrative Medicine Grand Rounds to be offered in Fiscal Year 2021. UCSF designates each live activity for a maximum of 1 AMA PRA Category 1 Credits™. Learners should claim only the credit commensurate with the extent of their participation in the activity.
A variety of healthcare boards and licensing bodies may accept AMA PRA Category 1 Credits™ toward their requirements for professional standing. This may include nurses, physician assistants, pharmacists, psychologists, and social workers. Check with your professional organization to ensure that AMA PRA Category 1 Credit™ meets the continuing education requirements of your profession.
Acupuncturists: This live activity is approved by the State of California Acupuncture Board for 1 hour of Category 1 CE course credit (provider number 1377).
Past Integrative Health Grand Rounds
2022-2023
Mindfulness and Behavioral Approaches to Improving Sleep and Promoting Mental Health During Pregnancy and Early Parenting (slides, video), Jennifer Felder, PhD
Equity-Based Integrative Health Innovation Towards Health System Redesign (slides, video), Scarlet Soriano, MD
Mindfulness Meditation and Relapse Prophylaxis in Mood Disorders (slides, video), Zindel V. Segal, PhD, CPsych
NCCIH Strategic Plan FY 2021-⁠25: Mapping a Pathway to Research on Whole Person Health (video), Helene Langevin, MD
Promoting Well-being in Healthcare: Mindfulness and Mind-Body Techniques to Manage Stress and Build Resilience (video), Sian Cotton, PhD
What Do Placebo and Nocebo Effects Have to Do with Health Equity? (slides, video), Kathryn Hall, PhD
Mind-Body Medicine and Integrative Oncology Group Visits: A Mindfulness-based Intervention Tailored for Diverse Patients (video), Chloe Atreya, MD, PhD & and Kavita Mishra, MD, MPH
Integrative Nursing: A Way Forward in Turbulent and Uncertain Times (video), Mary Jo Kreitzer, PhD, RN, FAAN
2021-2022
Panel on Cultural Appropriation in Integrative Medicine & Health (video), Helen Ye, MS, LAc, Helen Weng, PhD, and Sudha Prathikanti, MD
Investigating Ayurveda in the Genomics Era: A Brief Research Review (slides, video), Sudha Prathikanti, MD
Integrative Approaches to Long COVID (video), Meghan Jobson, MD & Juliet Morgan, MD
Music and Art-Based Interventions for Health and Well-being (video), by Emmeline Edwards, PhD
Warming up to a Novel Integrative treatment for Depression: Whole Body Hyperthermia and Cognitive Behavioral Therapy, Ashley E. Mason, PhD
Whodunnit? Solving Cases of Synergy in Botanical Medicines, Nadja B. Cech, PhD
Oncology Acupuncture: Evidence-informed Integration, Jun Mao, MD, MSCE
Decolonizing Medicine through Two-Eyed Seeing: Indigenous Philosophies of Wellbeing, Lewis Mehl-Madrona, MD
2020-2021
Pandemic Era Personal and Institutional Well-being: How to Bolster Our UCSF Response by Elissa Epel, PhD
Targeting the Sleep-Stress Cycle: Opportunities to Improve Health and Well-being in the Post-COVID Era by Aric. A Prather, PhD
Neuroimaging Brain Mechanisms of Acupuncture: from Somatosensation to Therapeutic Alliance by Vitaly Napadow, PhD
Food as Medicine: Moving Clinics Upstream to Improve Human Health, Soil Health, and Equity by Steven Chen, MD
What Can I Do to Protect Myself, My Family, and My Patients during COVID-19? The Role of Complementary and Integrative Health by Karen Seal, MD, MPH
Using Contemplative Practices to Divest Clinical and Research Processes of Racism by Kamilah Majied, PhD
Clinical Perspectives of an Integrative Health Case: The Retired Urologist with Chronic Pain panel presentation including the patient; Louise Aronson, MD; Christopher Gilbert, PhD; and Wolf Mehling, MD
Mind-Body Programs at the UCSF Osher Center: Translating Research to Clinical Practice panel presentation by Judith Cuneo, MD; Rick Hecht, MD; and Wolf Mehling, MD
Integrative Medicine in Children: Effective Tools to Treat and Prevent Pain and Distressing Symptoms in Pediatrics by Stefan J. Friedrichsdorf, MD, FAAP
2019-2020
Integrative Health Equity: Paradox and Promise by Maria T. Chao, DrPH, MPA
Culturally-Informed Complementary Treatments for Pain Management by Valerie W. Jackson, PhD, MPH
From Personal to Professional: Making the Journey Toward Integrative Whole Health Within the VA Health Care System by Karen Seal, MD, MPH
Mindfulness-Based Cancer Recovery: Program Description and Research Overview by Linda Carlson, PhD, CPsych 
Integrative Aging: Optimizing Wellness across the Decades of Elderhood by Louise Aronson, MD
Maurice Kanbar Lecture on Innovations in Integrative Medicine: Placebo Effects in Medicine by Professor Ted Kaptchuk
We Have to Pick a SIDE (Stakeholder, Infrastructure, Diversity, and Equity) in Academic Medicine by Tung Nguyen, MD
2018-2019
IM4US: The Intersection of Social Justice and Integrative Health Care by Priscilla Abercrombie, RN, NP, PhD; Rhonda Smith; Ariana Thompson-Lastad, PhD; and Maria Chao, DrPH, MPA
Prescribing Nature for Health: Taking Medicine into the Woods by Nooshin Razani, MD, and Jenifer Matthews, MD
Mindful Surgeon: Demonstrating the Possibility and Value of Contemplative Cognitive Training in Surgery by Carter Lebares, MD
MDMA - Assisted Psychotherapy for Post-Traumatic Stress Disorder: Early reports and announcement of a new multicenter trial by Sylver Quevedo, MD
2017-2018
A Review of the 2018 ICIMH Meeting by Osher Center members who attended the 2018 International Congress on Integrative Medicine and Health in Baltimore. 
Collaboration, Possibilities, and Future Approaches to Polycystic Kidney Disease by Jennifer Ashby, DAOM, LAc, and Meyeon Park, MD
Toward Just Healthcare for All: Revolutionary Reflections on Mindfulness, Social Justice, and Integrative Medicine by Rhonda V. Magee, MA, JD
Kanbar Lecture on Innovations in Integrative Medicine: The Entanglement of Meditation and Medicine, and What Love's Got to Do With It by Jon Kabat-Zinn, PhD. The video of this presentation is now online at UCTV.
Mindfulness-based approaches to promoting women's mental health during pregnancy and parenting: Novel targets and delivery formats by Jennifer Felder, PhD
Mind-Body Medicine for Children and Adolescents: An Integrative medicine approach to successfully incorporating these tools into clinical care by David Becker, MD
Modern and Traditional Dietary Approaches for Diabetes Mellitus by Rick Hecht, MD; Carla Kuon, MD; Anand Dhruva, MD; and Evelyn Ho, PhD
Movement, Breath and Psyche: Yoga and Other Mind-Body Therapies for Treating Major Depression by Sudha Prathikanti, MD
Managing Stress, Building Resilience: The Imperative for Mind-Body Medicine in Health Professions Education by Aviad Haramati, PhD
2016-2017 
Do 4.2 Million Children Need Ritalin? The Integrative Treatment of ADHD by Sandy Newmark, MD 
New Developments in the Treatment of Posttraumatic Stress Disorder by Thomas Neylan, MD 
Complementary Therapies in Treatment and Prevention of Cardiovascular Disease by Myriam Hunink, MD, PhD 
"Minding" Our Bodies: Research on the Impact of Tai Chi on Cognitive-Neuromuscular Interactions in Older Adults by Peter M. Wayne, PhD 
Endometriosis-Associated Chronic Pelvic Pain: An Integrative Approach by Judith Cuneo, MD 
Acupuncture and the Placebo Effect by Lisa Conboy, MA, MS, ScD 
Comparative Effectiveness Research on Acupuncture by Claudia Witt, MD, MBA 
Marijuana: Is It Medicine Yet? by Donald Abrams, MD 
2015-2016 
Time to Reconsider the Concept and Treatment of Teenage Depression? by Eva Henje-Blom, PhD 
Approach to Irritable Bowel Syndrome: Case Presentation & Panel Discussion by Rick Hecht, MD; Najwa El-Nachef, MD; and Kevin Barrows, MD 
Integrative Approaches to Chronic Pain by Diana Coffa, MD 
Neural Mechanisms Supporting the Modulation of Pain and Health by Mindfulness Meditation by Fadel Zeidan, PhD 
Communitas: Transforming the Experience of Pediatric Chronic Illness by Brittany Blockman, MD 
Are We All Addicted? Why We Get Hooked on Habits and How Mindfulness Can Help Change our Behaviors (and Brains) by Judson Brewer, MD, PhD 
Stretching, Connective Tissue, Chronic Pain, and Cancer by Helene Langevin, MD 
Integrative Urologic Oncology by Jonathan Brajtbord, MD