Appointment and Clinic Information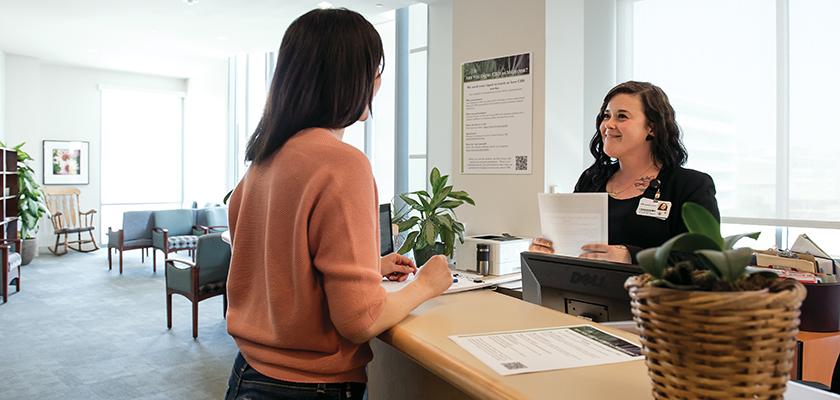 Clinic Adjustments Due to COVID-19
The Osher Center Clinic is offering in-person and telehealth visits. Patients who come into the Center to receive care will be contacted by our clinic staff to discuss new appointment policies.
For your safety, all of our patients, staff, and providers will be screened to ensure that they are free of symptoms before entering the clinic each day. Everyone entering the building will receive a mask to be worn at all times. Please plan to arrive for your visit at least 20 minutes prior to the scheduled start time to ensure that there is ample time for screening and getting you settled into a room.
We are closely following the evolving San Francisco Department of Public Health orders regarding visitors who accompany our patients. Patients planning to be accompanied by a visitor or caregiver should discuss current visitor guidelines with our staff. Please note that only trained service animals are permitted in the clinic environment.

Additional safety measures include:
Offering advanced electronic check-in on MyChart
Limiting the number of patients in our clinic
Limiting elevator passenger capacity
Facilitating social/physical distancing in our waiting area and throughout the building
Conducting enhanced cleaning procedures
For more information about UCSF Health's COVID-19 response, please visit https://www.ucsfhealth.org/.

For questions about possible COVID-19 symptoms (such as fever, cough, and/or shortness of breath), use the coronavirus symptom-checker through your MyChart account. If your symptoms are severe, dial 9-1-1 or go to the emergency room for evaluation.
New Patient Appointments
To schedule a new patient appointment, please call our New Patient Navigator at (415) 353-7716.
Returning Patient Appointments
Please call (415) 353-7700 to make a return appointment. As a courtesy, please provide at least 48 hours notice if you need to change or cancel your appointment.
Hours of Operation
Monday through Friday: 8 am to 5 pm
Saturday and Sunday: Closed (except to registered class participants)
Payment Information
We accept cash, check, or credit cards for all services provided. All services are eligible for use with Healthcare Savings Accounts and Healthcare Reimbursement Accounts.
Insurance Coverage
You are required to have a referral to be seen, even if you have a PPO. The Osher Center clinic accepts insurance coverage for services. It is important that patients review their insurance plan benefits carefully to determine if their plan pays for the service(s) that will be received at the Center. Some insurance plans require pre-treatment authorizations for certain services. There may also be frequency limitations to the number of visits approved for a particular service. If this is the case, patients are expected to obtain prior approval from their insurance carrier and provide a copy of the authorization for treatment to the Osher Center clinic staff. If the plan does not cover a specific service, patients are expected to pay for the service provided. There is a 40% UCSF discount for cash payment for services.
Referral requirements
Referral
Insurance card
Prior authorization (if needed)
Face sheet/demographics sheet
Medical records 
Osher Center CPT Codes
99205-PR OFFICE/OUTPATIENT NEW HIGH MDM 60-74 MINUTES
99215-PR OFFICE/OUTPATIENT ESTABLISHED HIGH MDM 40-54 MIN
99214-PR OFFICE/OUTPATIENT ESTABLISHED MOD MDM 30-39 MIN
99213-PR OFFICE/OUTPATIENT ESTABLISHED LOW MDM 20-29 MIN
90792-PR PSYCHIATRIC DIAGNOSTIC EVAL W/MEDICAL SERVICES
90836-PR PSYCHOTHERAPY W/PATIENT W/E&M SRVCS 45 MIN
90901- PR BIOFEEDBACK TRAINING,ANY MODALITY
97810-PR ACUPUNCT W/O ELEC STIMUL 15 MIN
97811-PR ACUPUNCT W/O ELEC STIMUL ADDL 15M
90791-PR PSYCHIATRIC DIAGNOSTIC EVALUATION
90834-PR PSYCHOTHERAPY W/PATIENT 45 MINUTES
90853-PR GROUP PSYCHOTHERAPY
90791 -- PR PSYCHIATRIC DIAGNOSTIC EVALUATION 
Please note: Clicking a PDF document below will open the document in your browser. Clicking the Word documents below will download the document into your computer's download folder. 
Adult New Patient Forms
New adult patients must complete the following form below before their first visit. Please download and use the application Adobe Acrobat Reader DC to complete the form. Please return it to our office within one week of scheduling your new patient appointment.
Adult New Patient Form: PDF 
Pediatric New Patient Forms
New pediatric patients must complete the following form before their first visit. Please bring the completed form with you to your first appointment.
Patient Rights
At UCSF, we respect the confidentiality of our patients, colleagues, and visitors. We recognize that each patient has unique health care needs and we encourage partnership between the patient and the health care team. We encourage patients or their legally designated representative to participate in discussions and decisions about their treatments, options, alternatives, risks, and benefits. Below are links to your rights as a patient, provided in English, Chinese, Russian and Spanish:
Patient Privacy
We are committed to protecting your medical information. For information about your rights and the obligations we have regarding the use and disclosure of your medical information, please see UCSF's Patient Privacy Rights.
Directions & Transportation
The Osher Center Clinic is on the 4th floor at 1545 Divisadero Street, on the UCSF Mount Zion Campus in San Francisco. Click here for more information about parking, shuttles, and buses.
We Welcome Feedback
If you would like to submit a compliment, concern, or other feedback, please contact the Osher Center Clinic Practice Supervisor, Heather De Martini.