Restorative Yoga for Patients Living with Cancer and Caregivers
Online Class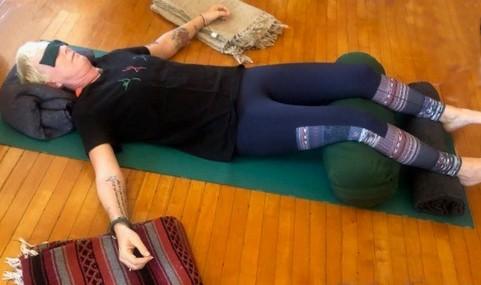 Restorative Yoga facilitates health and relaxation by supporting the body in easy and comfortable positions with props. You can use items available in your environment such as pillows, couch cushions, blankets, yoga blocks, and bolsters. 
Restorative Yoga is profoundly relaxing. It soothes the central nervous system, supports digestion, and improves mood and sleep.
This class may help reduce
Back pain
Stress and anxiety
Neck and shoulder tension
Digestive issues
Insomnia
Important:
Participants should be able to get down to the floor and come back up from the floor. Modifications might be made to do some postures in bed.
There are some conditions, like recent back surgery and spondylolisthesis, that this program may not be compatible with. 
No prior yoga experience necessary.
This class, as well as Yoga and Self-Care and Chair Yoga, are for people living with cancer and those who love someone living with cancer. 
Fee: Free, sponsored by the Mount Zion Health Fund.
Location: Click here to join online.
Contact information: E-mail [email protected] or call 415-353-7700.
Instructor