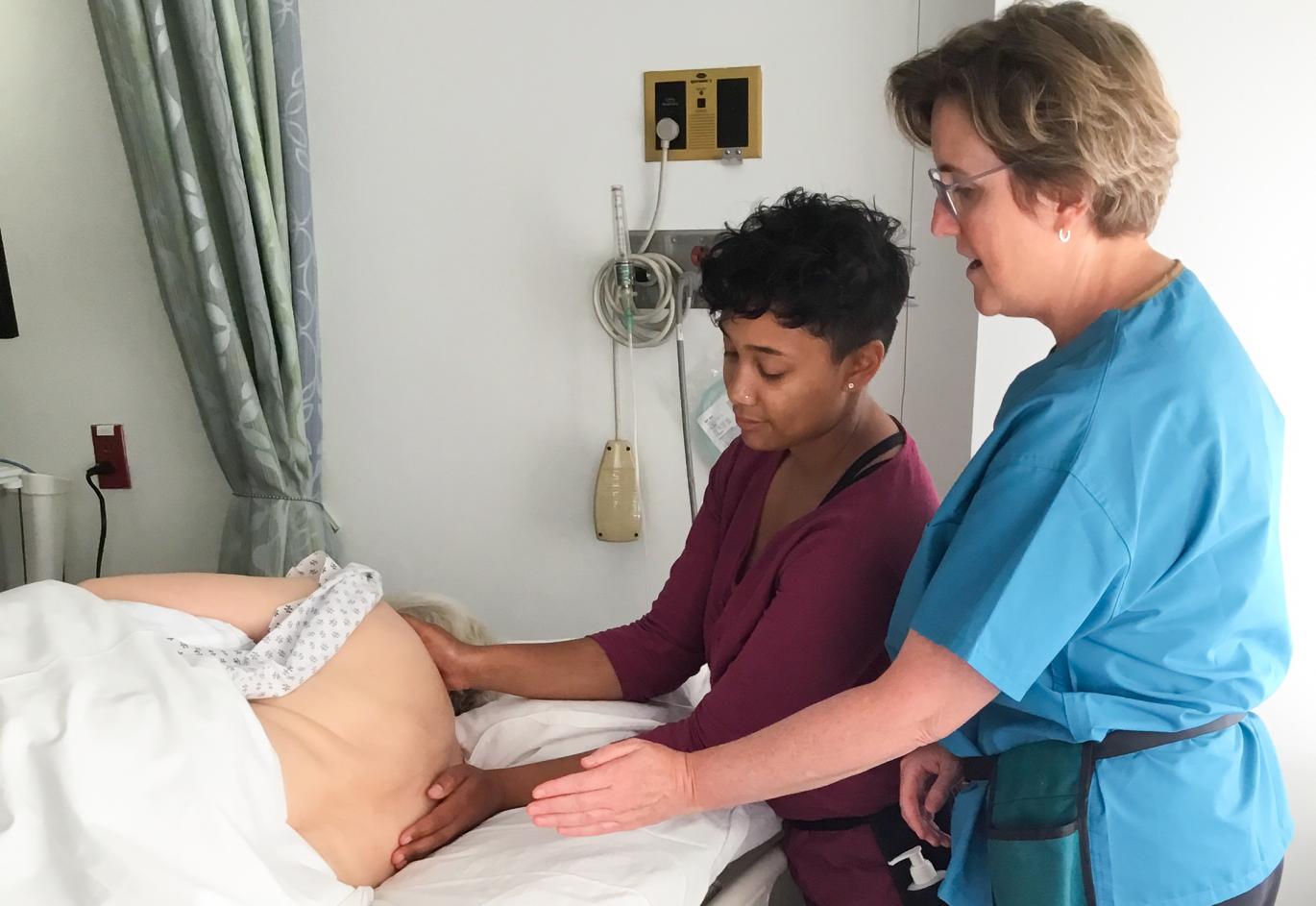 Hospitals are in need of more massage therapists trained to work with medically diverse patients. As the evidence base for the benefits of massage for inpatients grows, hospitals are looking to hire practitioners who bring an understanding of both the needs of patients with acute conditions and the hospital environment. However, there are limited training opportunities for massage therapists interested in working in this field.
The Osher Center is filling this need by launching a series of specialized advanced trainings for professional massage therapists. The new trainings provide continuing education for practicing massage therapists, including a year-long program in hospital-based massage therapy and short courses focused on the needs of patients with specific conditions, such as oncologic or neurologic illnesses.
Carolyn Tague, MA, CMT, has led the development of training programs based on the latest massage therapy research and comprised of didactic sessions, demonstrations, and hands-on practice. Tague brings extensive clinical and teaching experience to this work. She serves on the Hospital-Based Massage Therapy Task Force of the Academic Collaborative for Integrative Health and is co-author, with Gayle MacDonald, of the forthcoming textbook, Hands in Healthcare: Massage Therapy for the Adult Hospital Patient. Tague notes the tremendous benefits of inpatient massage: "We can discuss the inducement of the parasympathetic nervous system or pain gate modulation, but at the end of the day the benefit is that a patient feels better and maybe sleeps better, and remembers that their body can feel relaxed and good."
The Osher Center is uniquely positioned to provide community practitioners with medical experience in an integrative medicine outpatient clinic, as well as in inpatient settings at UCSF. Osher Center practitioners already provide massage therapy in acute healthcare environments, such as the infusion center and the neonatal intensive care unit. The new advanced massage training opportunities utilize our center's expertise to prepare practitioners for these environments and provide quality assurance to hospitals and others looking to hire advanced massage therapists. As always, we are committed to ensuring access to our educational programs through scholarships. Donate here to support need-based aid for massage therapists.