Osher Center Research Director Rick Hecht, MD and statistician Mike Acree, PhD are participating in a research project led by Anne Lown, DrPH of the UCSF School of Nursing, to study the use of acupressure to reduce treatment-related symptoms in children in active treatment for a childhood cancer. The study has been approved for a $2.78 million funding award by the Patient-Centered Outcomes Research Institute (PCORI).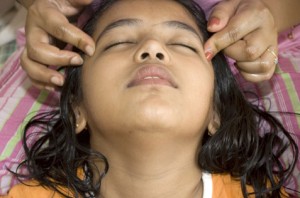 The project has been designed and informed by a strong team of stakeholders, including childhood cancer survivors, parents, hospital and clinic administrators and leaders in the field of cancer control. The study will enroll 400 patients, along with one parent each, over three years. The researchers will test whether the addition of acupressure to usual care improves the management of typical treatment-related symptoms, such as nausea and vomiting, pain, and fatigue, and whether it improves quality of life for children in active treatment for a childhood cancer. As part of the intervention, parents will be trained to provide additional acupressure as symptoms arise. More information on the project is described on the PCORI website.
The UCSF study was selected for PCORI funding through a highly competitive review process in which patients, clinicians, and other stakeholders joined clinical scientists to evaluate the proposals. Applications were assessed for scientific merit, how well they will engage patients and other stakeholders, and their methodological rigor among other criteria.
"This project was selected for PCORI funding not only for its scientific merit and commitment to engaging patients and other stakeholders, but also for its potential to fill an important gap in our health knowledge and give people information to help them weigh the effectiveness of their care options," said PCORI Executive Director Joe Selby, MD, MPH. "We look forward to following the study's progress and working with the University of California, San Francisco to share the results."