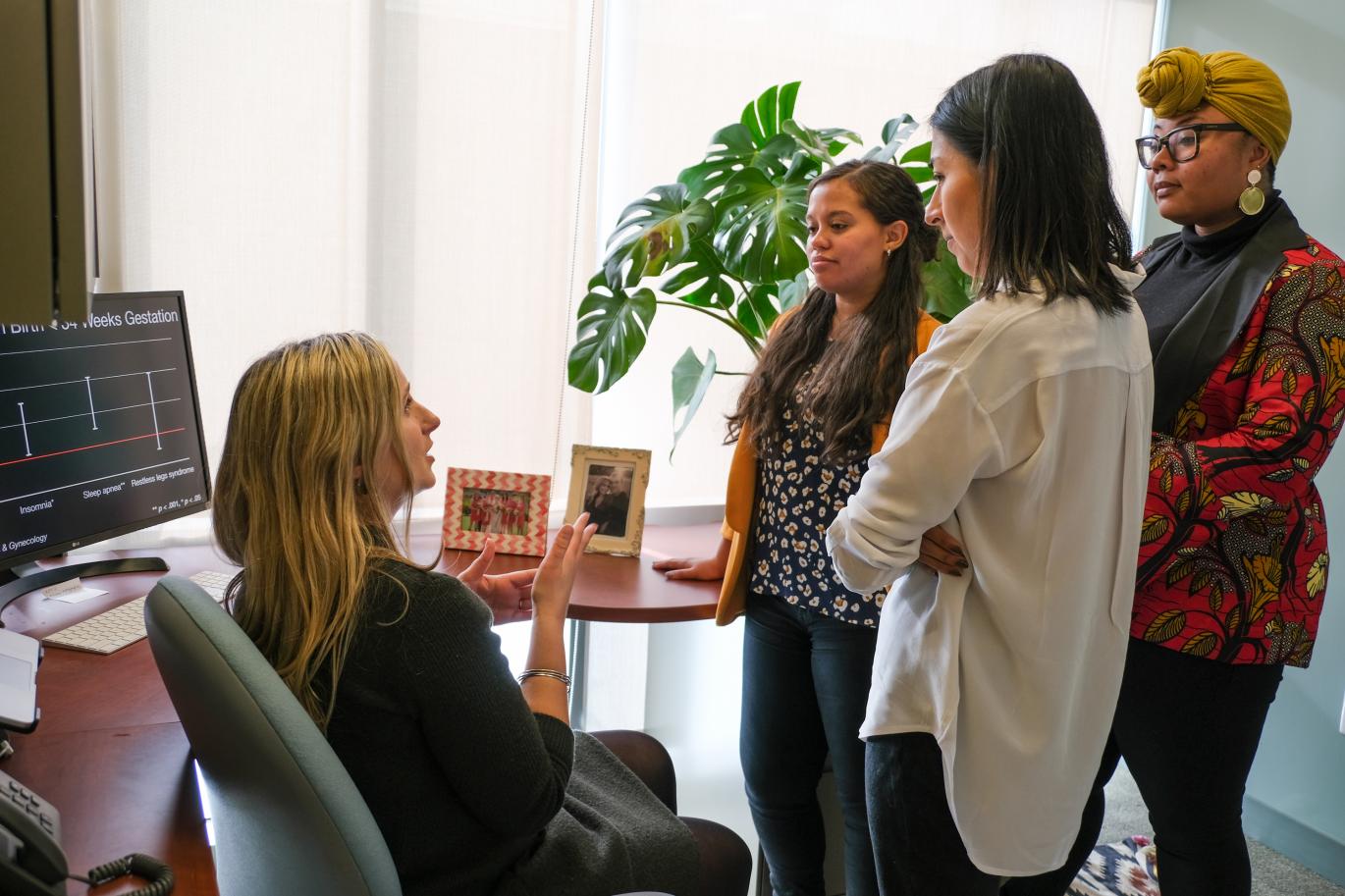 Photo of Jennifer Felder, PhD, with research assistants (from left to right) Jaontra Henderson, Esperanza Castillo, and Brianne Taylor.
The findings of a new study published today in JAMA Psychiatry could help the one in seven pregnant women struggling with insomnia and who consequently may be at increased risk of depression and preterm birth. 
A randomized clinical trial led by UCSF Osher Center faculty member Jennifer Felder, PhD, and the California Preterm Birth Initiative (PTBi-CA) has shown that digital cognitive behavioral therapy for insomnia (CBT-I) is an effective, scalable, and safe intervention for improving its symptoms during pregnancy. 
In fact, insomnia severity scores decreased more than twice as much for study participants who received digital CBT-I (delivered through the Sleepio program) compared to those who received standard care. Digital CBT-I recipients also experienced significantly greater improvements in depressive and anxiety symptom severity. 
While traditional CBT-I has been proven effective, demand for it exceeds the availability of trained clinicians. 
The flexibility and convenience of a digital CBT-I program may be of particular interest for pregnant women, who often prefer non-pharmacological treatment options and experience competing demands on their time and energy. 
The full article, "Efficacy of Digital Cognitive Behavioral Therapy for the Treatment of Insomnia Symptoms Among Pregnant Women: A Randomized Clinical Trial," by Jennifer N. Felder, PhD; Elissa S. Epel, PhD; John Neuhaus, PhD; Andrew D. Krystal, MD, MS; Aric A. Prather, PhD; is available from JAMA Psychiatry. 
A previous study also led by Felder and PTBi-CA found that pregnant women who are diagnosed with insomnia have nearly double the odds of early preterm birth compared to those without a sleep disorder.