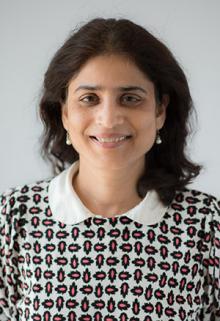 Core Research Faculty, UCSF Osher Center for Integrative Medicine
Professor, Department of Obstetrics, Gynecology, and Reproductive Sciences
Bio
Research Interests
Stress, inflammation, and pain
Gut-brain axis
Metabolic syndrome and diabetes
PTSD
Metabalomics
Preterm birth and stress
Experience
Dr. Aditi Bhargava serves as a mentor for postdoctoral fellows, residents, junior faculty, and summer students. Her research is funded by grants from the National Institutes of Health, private foundations, and individual donors. Dr. Bhargava is a fellow of the American Gastroenterological Association (AGAF) and serves on committees of scientific societies, including the Endocrine Society and the Federation of American Societies for Experimental Biology. 

Her research focuses on the role of neuropeptides and their receptors in inflammation, stress, and pain. The general objective of her research is to understand the molecular and cellular mechanisms by which the corticotropin-releasing factor (CRF) family of neuropeptides and their G-protein coupled receptors regulate stress-induced cellular signaling.
An estimated 57 million people in the United States alone suffer from stress-related disorders. Twice as many women as men suffer from these conditions, which include autoimmune disorders, anxiety, and depression. However, the precise role of the CRF system in mediating sex-specific cellular signaling and stress responses has yet to be elucidated.
The work in Dr. Bhargava's lab is characterized by its use of male and female animals and side-by-side comparison of cellular components that determine sex-specific responses. Researchers use a combination of technically challenging cell biology approaches, such as mass spectrometry, electron microscopy, and deep sequencing, to identify and localize cellular interacting partners in tissue samples obtained from in vivo animal models of human disease and patient tissues.
Education and Training
Postdoctoral fellow, UCSF and New York Medical College
PhD; MS, Molecular Biology, University of Pune, India
BS, Zoology (Honors), University of Rajasthan, Jaipur, India
Publications