Gia Naranjo-Rivera, PhD, MPA, MA
TRIM Postdoctoral Fellow, Osher Center for Integrative Health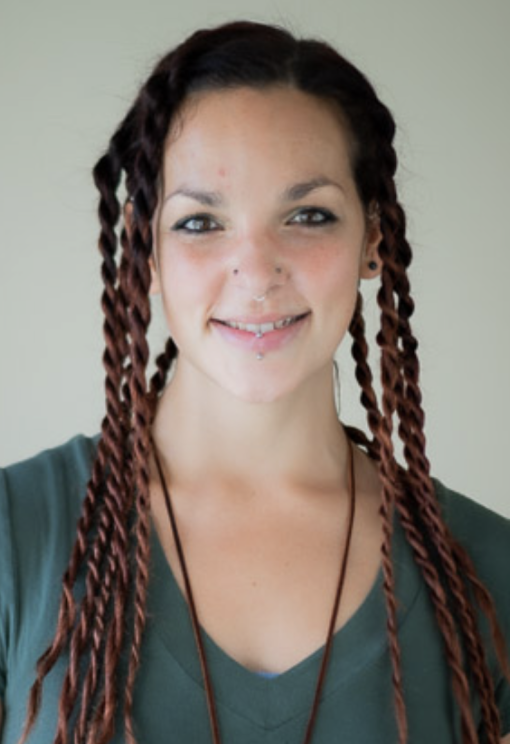 Bio
Research Interests  
Health equity
Resiliency and trauma
Mental and behavioral health prevention and promotion
Child health and adolescent development
Experience and Current Work  
Gia Naranjo-Rivera is an afro-indigenous Cuban American community leader, applied researcher, author, activist, and mindfulness and yoga instructor. Her postdoctoral work focuses on the impacts of school-based mindfulness programs on youth mental health—with a focus on youth who are BIPOC, LGBTQ+, and/or have high adverse childhood experiences (ACEs)/trauma.    
Additionally, Gia is developing, presenting, and publishing models and methods that help to identify and heal oppressive patterns and systems among individuals and groups. One model is the Living Mandala, a diagnostic and prescriptive tool to identify and correct dis-ease and inequity in multilevel systems. A second model is the Radical Indigenous Transformative Evaluation and Storytelling (RITES) Framework, an evaluation approach to tell the story and measure impacts of programs or projects grounded in world indigenous and people of color (POC)-based ways of knowing and valuing.    
Since 2004, Gia's career has included  advancing human rights in the US and abroad, directing programs for at-risk youth and families from New York to Oregon, and conducting applied health equity research nationally and internationally. She has worked with Amnesty International, Human Rights Watch, the Harlem Children's Zone, the National Institutes of Health, Johns Hopkins Center for Indigenous Health, and now the Osher Center for Integrative Health. She hopes to leave a legacy of love and liberation through her research, practice, and presence in the world.  
Education and Training  
PhD, Johns Hopkins School of Public Health

MPA, Syracuse University Maxwell School of Citizenship and Public Affairs

MA in International Relations, Syracuse University Maxwell School

BA in International Relations/Human Rights, Columbia University

Mindfulness Facilitator, UCLA Mindful Awareness Research Center

500-Registered Yoga Teacher, Yoga Garden San Francisco

Certificates of Advanced Study in Negotiation and Conflict Resolution, Information Security Management, Syracuse University Maxwell School  
Personal Statement  
As a multiethnic, LGBTQ+ applied researcher, Gia loves connecting her lived experience with real world challenges faced by oppressed and marginalized youth, families, and communities. Working collaboratively, I conduct and evolve research and practice to identify and tap into resilience and brilliance to overcome multilevel trauma and systemic oppression.
Publications  
Contributing Author. The Heart of Who We Are: Realizing Freedom Together by Caverly Morgan, 2022.
Blum R, Li M, Naranjo-Rivera G. Measuring Adverse Child Experiences among Young Adolescents Globally: Relationships with Depressive Symptoms and Violence Perpetration. Journal of Adolescent Health, 2019.
Contributing author. Respecting the Circle of Life (RCL): A Pregnancy, STI, and HIV Prevention Program for Native American Youth – Implementation Guide. Baltimore, MD: Johns Hopkins Center for Indigenous Health, 2018.
Contributing Author. Arrowhead Business Group: Entrepreneurship Program for Native American Youth – Implementation Guide. Baltimore, MD:  Johns Hopkins Center for Indigenous Health, 2018.
Naranjo-Rivera G, Mmari K, Blum R, Weeks F. Familias Fuertes in Latin America & the Caribbean Keys to Effective Implementation, Part 2: Summary of Key Informant Interviews. Pan-American Health Organization, 2017.
Caldas SV, Turkel R, Nelson A, Pandey S, Wu Y, Broaddus E, Naranjo-Rivera G, Winch P. "All of That's Gone Now": The Failure to Sustain Police-Youth Programs in Baltimore City. The Police Journal: Theory, Practice and Principles, 2017.
Contributing author. Chapter 7: The Diversity Opportunity, The Trusted Leader: Building Relationships that Make Government Work Washington, DC: CQ Press/SAGE, 2011.
Naranjo-Rivera G, Hirsch P. Tools, Methods, and Approaches for Working in a World of Trade-offs: Interviews with Global Conservation Program Leaders & Review of CIFOR Case Narratives. MacArthur Foundation, CIFOR, PARCC at Syracuse University, 2011