Biofeedback
Increase self-awareness, enhance relaxation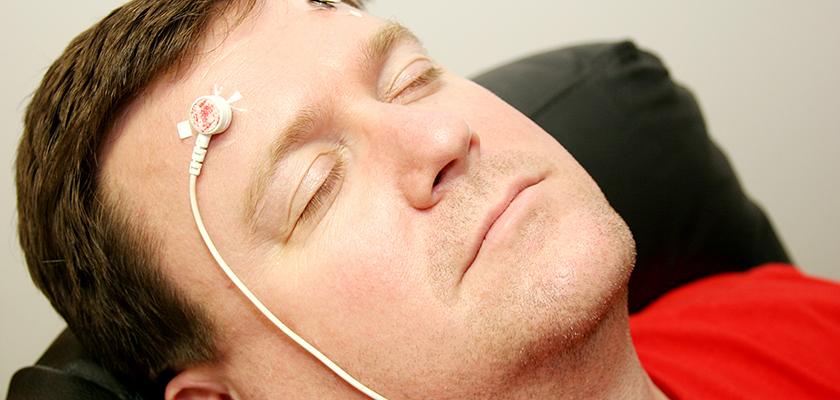 Biofeedback enhances your awareness of personal mind-body connections and helps you maintain relaxed awareness amidst chronic or acute stress. Many health problems develop from or are amplified by prolonged stress. Biofeedback monitors psychophysiological changes in heart rate, breathing patterns, exhaled CO2 levels, skin temperature, sweat gland activity, and muscle tension. The computerized feedback is displayed so that you and your practitioner can observe the shifts that occur with training.
In a series of sessions, you will learn to sense, understand, and regulate your unique stress responses. Improving inner awareness and control will help you alter excessive stress responses and sustain the effects. Each biofeedback session is tailored to individuals and may include relaxation training, guided imagery, or other techniques.
We do not currently offer neurofeedback for ADD/ADHD at the Osher Center.
Managing anxiety and stress
Preparing for surgery and medical procedures

Enhancing your meditation practice
Improving pain management
Managing gastrointestinal issues, such as IBS
Managing or preventing headaches and TMD/TMJ (jaw clenching)

Improving cardiac functioning and helping to lower blood pressure
Improving awareness and control of the muscular system
Research Findings
There have been over 150 studies reviewing the effectiveness of biofeedback to train for awareness and self-regulation. Biofeedback is often most effective when coupled with other adjunct trainings, such as relaxation or guided imagery.
Recommended websites for more information include: bcia.org, aapb.org, bfe.org
Preparing for Your Visit
Please come prepared to reflect on personal sources of stress and your existing methods for coping with stress. We will take a measurement relevant to your individual situation, so you can see how biofeedback works.
Payment Information
The Osher Center accepts insurance for service. Please check with your health insurance company to determine if coverage and prior authorization is required by your policy. Our Patient Navigator will provide guidance regarding the fees for each service and your action steps to confirm your insurance coverage and authorization. Out of pocket clinical service fees vary based on each individual's insurance coverage. A 40 percent discount may be applied for this visit for self-pay patients, not covered by insurance, who pay the day of the appointment.