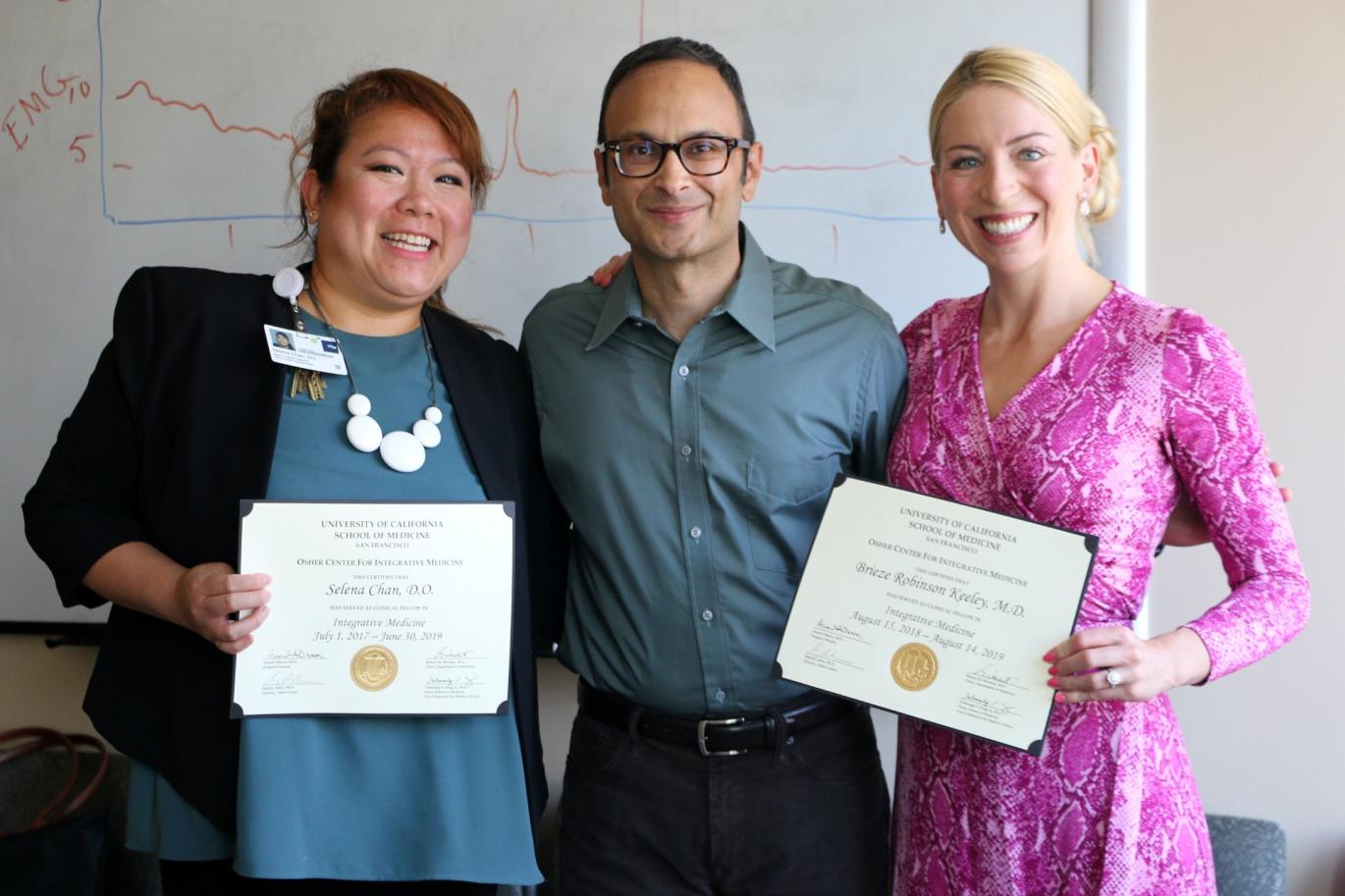 The Osher Center for Integrative Medicine offers specialized training in clinical integrative medicine for physicians. Our two-year clinical fellowship prepares physicians for academic and clinical careers in integrative medicine. 
Our fellowship emphasizes practical clinical training in integrative medicine. The Osher Center clinic's diverse patient population and broad scope of clinician expertise offer a unique breadth and depth of training opportunities. In addition, our training program draws on the resources of the Osher Center's research and education programs to include a wide range of faculty who enhance our educational activities, mentoring, and scholarship opportunities. Physician graduates are eligible to take the exam for board certification in integrative medicine.
Our program combines three core components:
Mentored clinical training in integrative medicine
Classroom-based educational and experiential learning activities
Mentored research or other scholarly projects in integrative medicine
Salary and Benefits
Salary and benefits are provided at the UCSF PGY4 postgraduate level and include the UCSF housing stipend. In addition to salary, all fellows receive medical insurance, disability insurance, and discounted membership to Millberry Union, which includes a newly renovated health and fitness center. All fellows receive an educational fund to support scholarly activities such as travel to a national conference.
Eligibility and Application
Eligible Applicants
Applicants to the clinical fellowship program must have successfully completed an accredited residency program at a U.S. or Canadian institution and must be PGY4 or above.
How to Apply
Please reach out to Yvette Coulter, the program coordinator, for more information on future application cycles or other questions about the programs.
In addition to the online form, applicants must also submit:
A current curriculum vitae.
A personal statement that includes:

A brief summary of pertinent background information that may not be apparent from the CV, such as how the applicant became interested in integrative medicine, prior training in integrative medicine.
The applicant's precise educational goals for the fellowship (e.g., to develop expertise in mind-body practices and nutrition).
The applicant's professional goals following the fellowship, and how completing the fellowship will help to achieve them.
For applicants interested in additional research or education training, a brief summary of the applicant's research or education experience and interests.

Three letters of reference. If the applicant has recently completed a residency program, at least one reference must be from the residency program director or associate program director.
Copy of medical school diploma.
Medical school transcripts (can be unofficial transcripts).
USMLE scores
Selected applicants will be invited for an in-person interview.
Clinical Fellowship Leadership
Integrative Oncologist and Ayurvedic Practitioner, Director of Education, Research Faculty
Learn More
Director of Clinical Programs, Osher Foundation Endowed Chair in Clinical Programs in Integrative Medicine, Integrative Pediatrician
Learn More