"One in 3 cancers can be prevented by eating healthy,
being active and maintaining a healthy body weight."
~ American Institute for Cancer Research
Welcome to the Osher Center resource guide for Cancer and Nutrition, a resource for evidence-based nutrition guidelines regarding cancer prevention and survivorship. We've reviewed published research, as well as books and websites to provide a comprehensive overview of dietary strategies for cancer patients.
Most people believe that there is little they can do to prevent cancer. In fact, by some estimates, lifestyle factors, such as diet and exercise, play a major role in cancer prevention. Dietary habits are estimated to be a causal factor in 30% of all cancers. Combined with smoking, obesity, lack of exercise, and the over-consumption of alcohol or other drugs, 70% of all cancers can be linked to lifestyle.
Overview Chart
From Richard Beliveau, PhD and Denis Gingras, PhD
Compiled from data from the American Association for Cancer Research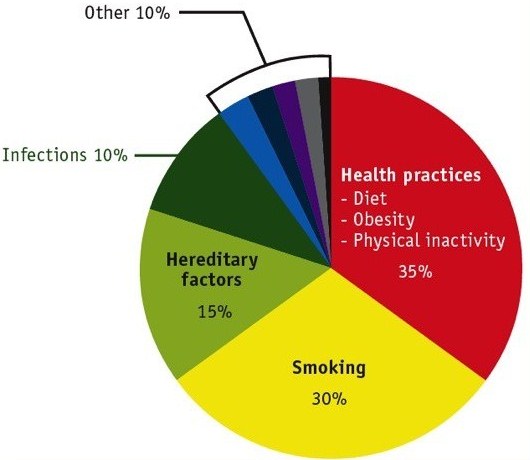 See a more detailed chart from the American Association for Cancer Research.
---
On this website, we explore various facets of cancer and nutrition. You'll find information on an anti-inflammatory and plant-based diet, sample meal plans and recipes, risk reduction advice by cancer type, reputable resources, and answers to frequently asked questions (FAQs).
The FAQ page provides evidence-based answers to some common questions such as the relationship between cancer and sugar, an alkaline diet, a ketogenic diet, or a paleo diet, just to name a few. The recommendations presented on this website are goals to aim for. If you are in the midst of cancer treatment, we encourage you to do the best you can to achieve these goals while recognizing that treatment-related side effects can interfere with your best efforts. Managing those side effects will take priority to some of the long-term dietary recommendations. Refer to our FAQ page for more information regarding managing treatment-related side effects with nutrition.
Cancer and nutrition videos to explore at your leisure: